Getting started
Connecting the board!
First things first: to develop for an mbed board you need to connect it to your laptop using USB. It will show up as a "drive" just as if it were a memory stick. That is all there is to it!
NB: On the EFM32 boards you need to use the USB on the top right of the board, otherwise it won't work
The compiler and editor is online and browser-based.
Creating a user
When you have connected the board you can open the drive (e.g. in My Computer on Windows) and open the file there called MBED.HTM. It will take you to the mbed webpage for the board you have plugged in where you can register a user. If you don't have a board, you can register anyway at https://developer.mbed.org/account/login/
Add the board in the mbed compiler
If you used the MBED.HTM file, you will be taken to the platform page for the board you have plugged in to your computer. Click "Add to Compiler".
If this doesn't work for you, here some direct link to the platform pages of some of the board that Hackerspace has: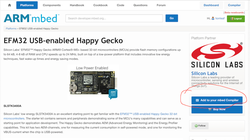 Import an example progam
Let's start by importing a basic example program. Go here and click "Import Program": https://developer.mbed.org/teams/mbed/code/mbed_blinky/
This will give a project with two files, mbed and main.cpp. "mbed" is the library used to communicate with the board, so we will only concern ourselves with main.cpp.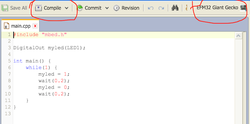 Compile and run
Click "Compile". This will download a file. If you put the file in the mbed board drive (just like you would put the file on e.g. a memory stick), the mbed will be "flashed", or programmed, with your program. If everything goes well, the program will start to run and a light on the board will begin to flash in a steady pattern! :D
Help!! It doesn't work!
EFM32:
Try to flip the switch in the bottom left to DBG / AEM
Other debugging tips: https://developer.mbed.org/cookbook/deadmbed
Write your own program!
A good place to start can be to try to make the light flash in a morse pattern!
Links: